CASTLE HILL GALLERY - September 2014


My wife and I had a walk around the grounds (The Earl and Countess of Arran were entertaining some American visitors, I understand) so could not see inside. However, we did have a chat with the Estate Officer - Margaret Pine. She was able to dig out a photo off her computer which was the same as one we already have on this website in Photo Gallery - School & Team Photos. I have included a few photos that I took of the exterior in case of interest to some of our older 'old boys'. Let me know if one or other does stir a memory!
I have since been in touch with Lady Arran who, as noted on the front page, has said "Please do say to your Old Boys that there is a big welcome for any of them to come and visit but to just give me a bit of warning as I'm inclined to be busy but love setting time aside for such interesting visitors".
She also says that she and the Earl are moving out next year and her daughter and son-in-law moving in. She will be having a major clear out and hopes to look through her grandparents photo albums. If she finds any St Peter's pictures, she promises to scan them and send them to me - watch this space!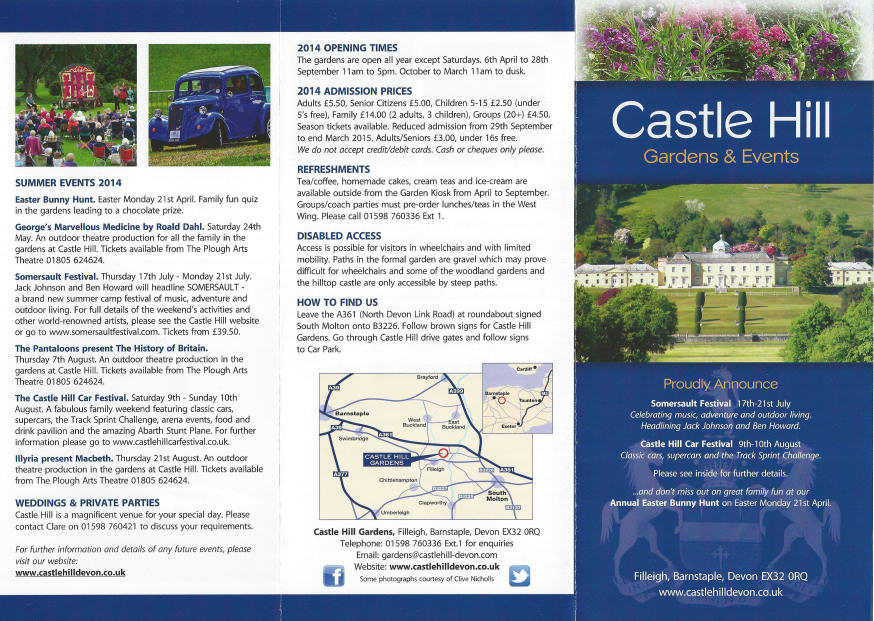 Tim Farebrother found this postcard amongst his possessions - we had to include this on this page, after all, it has St Peters printed on it!



Robin Kernick emailed me back in July 2013 with the following memories of Castle Hill and I failed to post this up on the website at the time. Now it is February 2015 - never too late! With apologies, Robin.

One can imagine that moving a Prep School whose boys numbered 80 odd before Dunkirk, first to Cornwall for the second half of Summer Term 1940, and then to North Devon for the Autumn Term must have produced headaches. Unhappily, events in 1940 had reduced numbers by at least 25% by the Summer holidays (boys leaving to go to their Public Schools early, and quite a few shipped across the Atlantic). The moves of the remainder and any remaining Staff must have provided problems of logistics that the owners had not met before, and for which they had certainly had no training.
The Knox-Shaw family and their partners seemed to us boys, however, perfectly calm, collected and used to such goings on. I was Head Boy at Seaford, the Nare Hotel in Cornwall, and for the first two terms at Castle Hill but had nothing to do with the logistics until August 1940. With parents abroad throughout the War, and Pat Knox-Shaw.
being my Guardian (at Cambridge with my Father), I kept in close contact after leaving our short but blissful time in Cornwall and found myself staying with friends about ten miles from Castle Hill when PKS secured our place there. Castle Hill was the then seat of the Earls of Fortescue who owned swathes of property round the house and large parts of Exmoor. It was a vast house mainly occupied by the Earl and Countess and their two teen-age daughters.
The heir, Viscount Ebrington, was at the War in, I think, the Scots Greys (and was very sadly killed not long after we got to the House). The house , which I have seen often since, is in a superb position facing South over beautiful rolling country set on rising ground and, in those days very easily seen from the main road from South Molton to Barnstaple. It must be nearly fifty yards long and, although having three distinct parts, was all in one piece. St Peters was given the West Wing almost against Castle Hill, the Family occupied most of the centre part, and I never knew what happened at the East End. Happily the Knox-Shaws and the Family soon formed a close and happy relationship which continued till their deaths.
Being so close when they were moving in Pat wondered whether I could come and help, any pair of hands being an asset. So, for several weeks I bicycled to Castle Hill daily to help them move in. When the Winter Term started with the inevitable shortage of staff Pat had found two Etonians waiting to go into the Army and they came to help. One of them was Michael Farebrother whom I came to know well. Sadly they only could stay two terms, but Mike's relationship with PKS was firmly founded and, when he left the Army, he came back to St Peters first as a Master, then Headmaster and part owner.
My memories of the school and how things went are getting rather vague, but I do remember being very cold that winter when it snowed hard. The only memory of the inside of the House I have is that there was a large set of cubicles, presumably originally to house junior and visiting staff and there our senior boys slept. The others were in other small bedrooms. My only other vivid memories are the shooting that winter ( all usual beaters gone off to war, so we boys beat) and the whole school walking across the fields to Filleigh Church on Sundays.
I went to see Margaret Fortescue, one of the wartime teenage daughters, some years ago. She had built her own house nearby as her daughter and family occupied the big House. Sadly, we couldn't go round this because Lady Thatcher was coming to lunch that day, but, in spite of a major fire some years ago, the House seemed totally unchanged outside from my 1940/41 memories.


Copyright © 2010 The St Peter's Old Boys Association. All rights reserved.